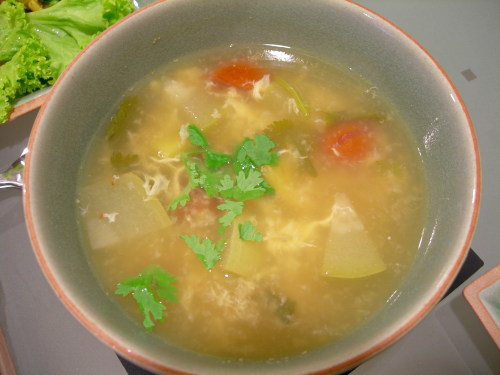 Ingredients
1 table chopped garlic
4 cups water
1/4 cube knorr mushroom soup base
4 lime leaves
2 slices galangal
5 small thai green chilis (prik kee nuu)
1 tea thin tamarind paste
1/3 winter melon, skinned, and cut into bite sized cubes
bite sized pineapple chunks — about 1/2 of the amount of melon used
10 cherry tomatoes
1 tea sugar
1/4 tea salt
1 tea light soy sauce (healthy boy)
dash of white pepper
1 egg (optional)
small handful (10 leaves?) of horapa basil
2 springs of cilantro
Method
pan fry the garlic in a little oil until light brown and fragrant. Add the water directly on top, and bring to a boil. add the knorr soup base, lime leaves, chilis, tamarind paste and galangal. boil for a few minutes for the flavors to come out.
add the winter melon, and boil for a few more minutes. Then add the pineapple, tomatoes, sugar, salt, pepper, soy sauce. Boil until the winter melon is soft.
while stirring, slowly pour 1 beaten egg into the soup.
turn of the heat and add the basil & cilantro. When wilted, serve in a boil, and garnish with cilantro.
makes two large bowls.