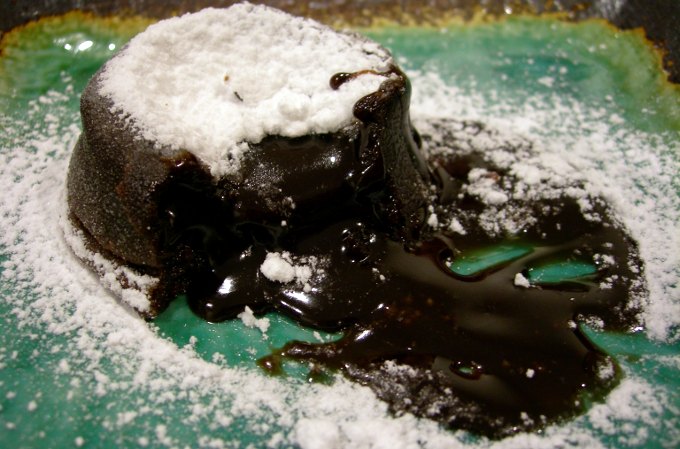 Molten Spiced Chocolate Cake
1 cup unsalted butter
8oz semisweet chocolate (that's about 1 cup, but since ya can't pack it perfectly use about 1.5 cups…)
2 whole eggs + 2 more egg yolks
1/2 cup sugar (i use cane sugar, not white sugar)
pinch of salt
4 teaspoons flour
3 cardamom pods
2 cloves
10 black peppercorns
1/4 teaspoon cinnamon powder
Pre-heat the oven to 450°F (230°C).
Heavily grease with butter some ramekins… about 8 of them. I cheated and used a muffin tin. Worked fine.
Remove the black inner seeds from the cardamom pods and discard the shells. Add to a mortar and pestle along with the cloves and peppercorns and grind until fine.
Melt the chocolate & butter with the spices over medium low heat with a bain marie until melted.
While the chocolate is melting, beat the eggs, sugar and salt until the sugar dissolves. Then add the flour and mix well.
Add the melted chocolate into the egg mixture. Stir then fill the ramekins or muffin tin almost to the top.
Bake for about 8 minutes, until the top is dry and puffs up, but is still a bit jiggly if you move it around in the oven.
Remove from oven and let set for a minute or so, then flip onto a plate and top with powdered sugar. I added the sugar inside a tea strainer and tapped the side of it with a spoon on top.