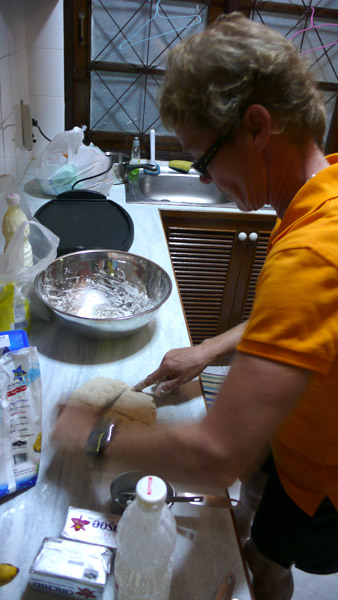 This is Patsy. She's from Belfast, Northern Ireland. She teaches swimming at a school in Rayong, Thailand. She also bakes for a lot of the local restaurants in the area.
I tried her soda bread and kindly asked if she would show me how to bake it. She came over, showed me soda bread, potato bread and how to make a kiwi pavlova! Very exciting indeed. She's even sent over the recipes she uses which I've posted here along with some photos from our baking day. Anything in italics are my notes for American readers.
---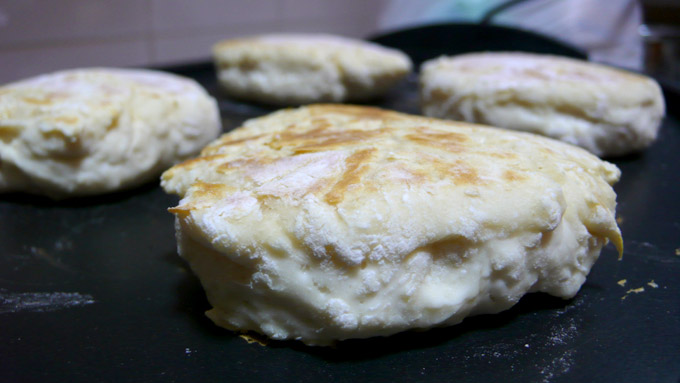 Irish Soda Bread
This bread is popular throughout Ireland. Because it is easily and quickly made it is often baked fresh for tea or even breakfast. At home we used to call the loaf made with white flour soda bread, while that made with wholemeal (whole wheat flour) was wheaten bread. In other parts of the country wheaten bread is referred to as brown soda or, confusingly, soda bread!
1 lb / 1/2 kg / 4 cups plain flour (all purpose flour)
1 teaspoon salt
1 teaspoon baking soda
1 teaspoon sugar (optional)
1 pint / 1/2 litre / 2 cups buttermilk or sour milk (cultured buttermilk)
Sieve (sift) the dry ingredients into a large bowl. Scoop up handfuls and allow to drop back into the bowl to aerate the mixture. Add enough buttermilk to make a soft dough. Now work quickly as the buttermilk and soda are already reacting. Knead the dough lightly – too much handling will toughen it, while too little means it won't rise properly.
Form a round loaf about as thick as your fist. Place it on a lightly-floured baking sheet and cut a cross in the top with a floured knife. Put at once to bake near the top of a pre-heated oven, gas mark 8, 450°F, 230°C, for 30-45 minutes. When baked, the loaf will sound hollow when rapped on the bottom with your knuckles. Wrap immediately in a clean tea-towel to stop the crust hardening too much.
Wheaten bread or brown soda is made in exactly the same way but with wholemeal (whole wheat) flour replacing all or some of the white flour; this mixture will probably require less buttermilk. Another variation is to add 1/2 cup of sultanas (raisins) to the white bread.
Note from Cee: Patsy says there are two ways of cooking soda bread – in the oven as in the above recipe, or on a griddle. She said she cooks it on a griddle most often and that's how she showed me how to do it (see photo above). If cooking on a griddle, separate above dough into four rounds and flatten on a well floured surface to about 1/2″ thick. Score a cross into it and cook on medium heat for about 5 minutes on each side. Press the sides to check doneness – it should spring back. Once cooked, you can snap apart at the scores and have 4 triangle shaped soda breads called "farls". She also used more baking soda than in this recipe, about 3x as much, perhaps due to the humidity in Thailand to help it rise. She does not add sugar.
---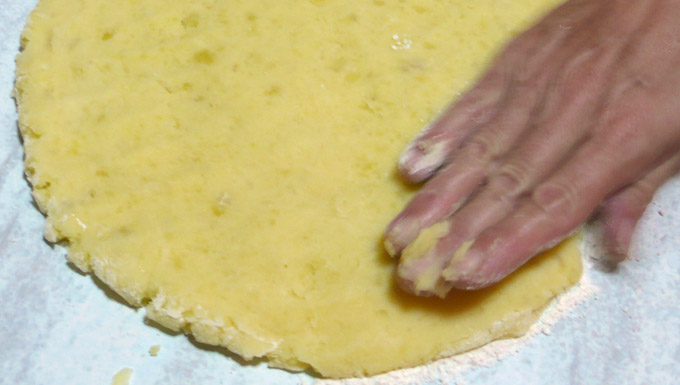 Potato Farl
Also known as potato cake or potato bread, this is very much a northern dish. It is an important – indeed essential – constituent of the Ulster Fry, alongside bacon, egg, sausage and perhaps fried soda farl. (Ulster Fry is a giant Irish breakfast)
The recipe calls for cooked, mashed potatoes. These should be freshly boiled, or, better still, steamed and passed through a food mill, and used warm.
2 lb / 1 kg / 2 cups mashed potatoes

4 oz / 125 g / 1 cup plain flour

2 tablespoons butter

salt

Melt the butter and mix into the potatoes with the salt. Work in the flour quickly but thoroughly and knead lightly. Divide in two and roll out each half on a floured board to form a circle about the size of a large dinner plate. Cut in quarters (farls) and cook for about 3 minutes on each side in a heavy frying pan in a little bacon fat.
Note from Cee: Patsy says to make potato bread is quite easy, you don't really need to measure anything. Simply take as many potatoes as you like and boil them until really soft. Make mashed potatoes like you do normally with butter and salt, but make sure they're really well mashed and not lumpy. Add a wee bit of flour and mix. She did not use as much flour as the recipe above. Turn out onto a well floured surface and pat into a pancake 1/2″ thick. Cut into quarters (farls) and fry on a medium griddle until light brown. She used one of those non-stick electric griddles which doesn't require grease.
---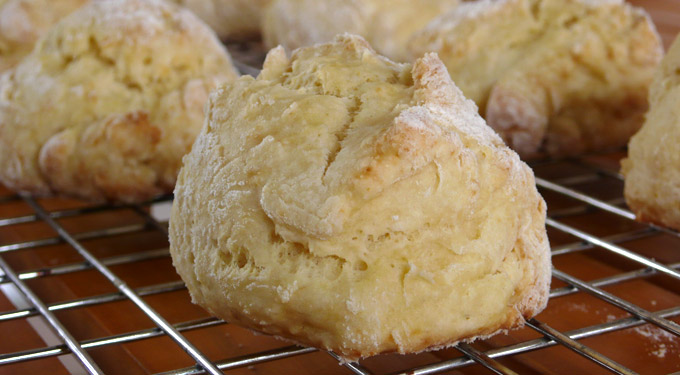 Buttermilk Scones
Morning coffee and afternoon tea would not be complete without fresh scones, and there are so many delicious varieties. The secret of making good scones is a quick, light hand when mixing, and a hot oven.
225g / 8oz self-raising soda bread flour (this is flour you can buy in Ireland with baking soda pre-added. substitute this with 1 3/4 cups all purpose flour + 1/2 teaspoon baking soda)
pinch salt

25g / 1oz butter or hard margarine

1 egg, beaten

140 ml / 5fl oz buttermilk / (about 1/2 cup + 1 tablespoon)

egg or milk to glaze (optional)

Makes 8
Preheat oven to gas mark 8 / 230°C / 450°F. Sift flour with salt and rub in butter or margarine. Make a well in the centre and pour in the egg and most of the buttermilk. Mix quickly to form a soft dough, adding a little extra buttermilk if necessary. Turn out onto a floured surface and roll out lightly until 2.5cm / 1 inch in thickness. Working quickly, cut into 5cm / 2 inch rounds. Glaze with egg or milk and set on a floured baking sheet. Bake for 15-20 minutes until light brown.
Savoury Cheese and Herb Scones
Add 1 teaspoon dry mustard, 50g / 2oz grated cheese and 2 tbsp fresh, chopped herbs to the dry ingredients and proceed as before. After brushing with egg or milk, scatter a little grated cheese on the top of each scone.
---
Dulse and Yellowman
Did you treat your Mary Ann to some dulse and yellowman, 
At the Auld Lammas Fair in Ballycastle-O?
Dulse is a purple edible seaweed. I remember buying it at a penny a bag as a child when sweets were hard to get at. It can also be stewed for a couple of hours and eaten as a vegetable or with oatcakes. It is not known much outside the north of Ireland – and it is no great loss!
Yellowman is a different matter all together. This toothsome, honeycombed, sticky toffee is traditionally sold at the Auld Lammas Fair at the end of August.

1 lb / 1/2 kg / 1 1/2 cups golden or corn syrup

8oz / 250g / 1 cup brown sugar

1 tablespoon butter (heaped)

2 tablespoon vinegar

1 tablespoon baking soda

In a large saucepan slowly melt together all the ingredients except the baking soda. Do not stir. Boil until a drop hardens in cold water (240°F, 190°C on a sugar thermometer). Stir in the baking soda. The toffee will immediately foam up as the vinegar releases the gas from the baking soda. Pour out onto a greased slab and while just cool enough to handle fold the edges towards the centre and pull repeatedly until the whole is a pale yellow colour. Allow to cool and harden in a greased tin and break into chunks with a toffee hammer – or anything else that comes to hand
---
Irish Chocolate Cake
The "Irishness" of this lovely chocolate cake is thanks not only to the wonderful liqueur used in the filling, but also to a certain, very Irish, ingredient in the cake mixture itself, which contributes to its moistness.
Sponge

175g / 6oz / 1 4/5 cups self-raising flour (Americans: use 1 cup + 3/4 cups + 1 tablespoon all purpose flour & 2 teaspoons baking soda)

1/2 teaspoon salt

50g / 2oz dark chocolate

110g / 4oz butter

175g / 6oz caster sugar (3/4 cups)

80g / 3oz cooked mashed potato (about 1/3 cup)

2 eggs, beaten

4 tablespoons milk
 (1/4 cup)
Filling

110g / 4oz dark chocolate

125ml / 4fl oz double cream
 (1/2 cup whipping/heavy cream)
50g / 2oz icing sugar (1/2 cup powdered sugar)

3 tablespoons Irish cream liqueur
Preheat oven to gas mark 5 / 190°C / 375°F, and grease and line two 20cm / 8 inch cake tins. Sift flour and salt into a mixing bowl. Melt chocolate in a bowl placed over a saucepan of hot water. In a separate bowl, cream butter and sugar together until fluffy, then beat in the chocolate and mashed potato. Gradually beat in the eggs, adding a little flour with each addition. Fold in the rest of the flour and stir in the milk.
Divide mixture between cake tins and bake for 25-30 minutes or until top is firm but springy to the touch. Remove from oven and after a few minutes, turn out on a cooling rack. While the cake is cooling, make the filling. Melt the chocolate as before, stir in the other ingredients and mix well. Use the filling to sandwich the sponge layers together and coat the top and sides of the cake.