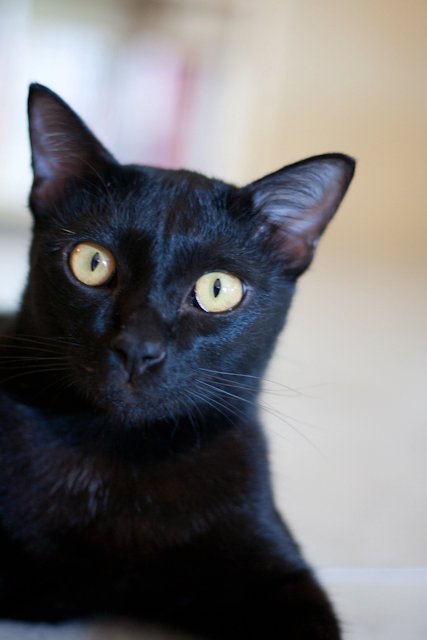 แมวอินเตอร์… international cat of mystery
Emma brought her cat "Pumpoi" from Thailand to the US and wrote up this how-to. I figured I'd post it here in case anyone was interested. Her post follows:
Please note that different countries require a variety of import arrangements
At Least 6 Weeks Before
Your cat must be at least 6 months old
Make sure that your cat is vaccinated against rabies at least 30 days prior to you wishing to leave the country. Every cat needs a rabies booster before they leave the country. You must have the original vaccination record with the correct stickers and dates as well as the vet's contact details clearly displayed.

Decide if you wish to bring your cat on to the plane or have it as checked baggage or as checked as cargo. Bringing a cat onto a plane means you will be confining it to a smaller space than if it is checked baggage or cargo.
Buy a cat crate that is the suitable size for your cat and that is airline approved. Crates are airline approved for ventilation and food and water requirements. Some airlines require metal fasteners on the corners of these pet carriers. Be sure to confirm with your airline that the style you need meets their specific construction requirements before purchasing. This can be challenging as the airline from the Thai end can be extremely unhelpful and insist that you purchase a crate first!

Know the weight and size (height x width x length) of your crate which should be on the specifications. You will need to have this information ready when you contact your airline. You will also need to give them the weight of your cat. The reason is that this will determine the cost of your excess luggage when you go to pay at the airport check-in desk before your fly.
Booking Your Flight
Book your flight – check that they have space for your cat before you confirm your booking as they only allow so many animals per flight.
Contact the airline and explain that you wish to book a live animal onto the flight as carry-on or checked baggage/cargo. Get confirmation from them and a price quote for the cost of transport.
3 Days Prior To Departure
3 days (no more than this – even if in some places you see it mentioned that 7 days is ok, sometimes it is not!) prior to your departure you must go to the Bangkok Suvarnabhumi Airport Customs and Animal Quarantine Office. All pets must be inspected by the government vet before leaving the country.

Customs Free Zone
Suvarnabhumi International Airport
Bangkok, Thailand
Tel +66 (0) 2134 0731

You must bring with you to the quarantine office:

Original rabies certificate, with vet's contact details and phone number (in English and legible).
A copy of your passport
Your flight details
Cat micro-chip number if you have one (not necessary to have a microchip, but if you do have one, you need the number).
Your cat!

At the office you will need to fill in a Form 1/1 which is an export request. You do not need to do this before hand.
At the office the vet will conduct a health check, take a photograph of your cat and give you the documents you require for export. This costs 50 Baht per cat.
Make two photocopies of all documents and keep them with you when you travel. You should have:

Your original cat health certificate
The airport vet health certificate
The export permit

Familiarise your cat with the crate it will be travelling in. It helps to leave something with your scent in there for the trip. Planes are cold so make sure that your cat is going to be warm enough by adding blankets etc.
Your crate must be properly labelled with arrows to show right way up and 'live animal' in words 2 inches tall. You also need to leave feeding instructions and have your details on the crate.

Line the bottom of the crate with newspaper and/or absorbent pads. Do not use straw or other grassy materials as the importation of plant material is prohibited.
At the Airport
Make sure you have enough money with you at the airport as either Thai Baht or as US Dollars to pay for the excess baggage.
Check in as early as possible so that if there are any problems you have some extra time to sort them out.
Hand over the paperwork you received from the airport vet when you go to check in. They may ask for copies of the health certificate – in which case hand these over now. They will then tape these to the cat crate.
If your cat is going to be transported as excess baggage you will need to bring them to the oversize baggage area before you go through customs.
On The Plane
When you are in your seat, you should get a confirmation from the air steward that your cat has been loaded onto the flight. If not, you can ask them to check prior to departure.
At Your Destination
Make sure you check the box on the customs form that you will be bringing a live animal into the country.
A customs official may want to check your cat at the destination.
If you checked your cat as excess baggage then collect your cat after passing through customs.