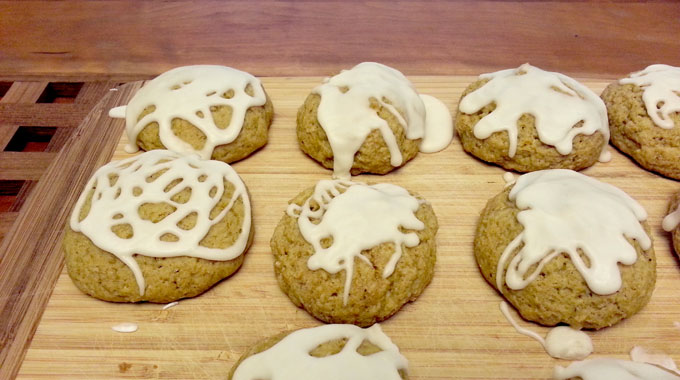 Cookies
2 1/2 cups all purpose flour
1 teaspoon baking powder
1 teaspoon baking soda
2 teaspoons cinnamon
1/2 teaspoon nutmeg
1/2 teaspoon cloves
1/2 teaspoon salt
1/2 cup unsalted butter, soft
1 1/2 cups unbleached sugar
1 cup mashed pumpkin *
1 egg
1 teaspoon vanilla **
* I used Japanese pumpkin (kabocha), skinned and chopped into 1″ cubes and steamed until soft. I then mashed with a fork.
** I use vanilla sugar – take old vanilla pods and add to an air tight glass jar with unbleached sugar. The sugar will take on the flavor of the vanilla. Use as much as you want.
Maple Icing
Some confectioners' sugar (1 1/2 cups?)
A few tablespoons of maple syrup
Some water to make it the right consistency
Aaaand Go!
Mix the flour, rising agents and spices together in a bowl. I use a whisk. Set aside.
Cream the softened butter with the sugar until soft and fluffy
Add the egg and mix well
Add the pumpkin and mix well again
Add the vanilla (or vanilla sugar) and the dry ingredients. Mix.
Roll into 1″ balls and flatten slightly (you may need to flour your hands). Bake on a greased cookie sheet at 350°F for 15-18 mins.
Cool completely before glazing ***
*** Sorry I didn't measure this part. Essentially you want to add enough maple syrup to make it flavored, and then enough water to make it thin enough to drizzle on top of the cookies. But not so thin it doesn't set. Try icing one cookie first and throwing it in the fridge for a few mins. If it's hardened up a bit to the touch you're good.
Also, stacking these cookies is a really bad idea. Don't even bother putting them into a container because it'll be a mess. But you won't need to anyway because these cookies have magical softening properties so leaving them on the counter top for days actually makes them softer and better over time.