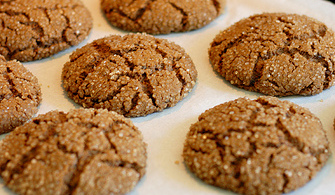 This is a recipe I've been using for ginger cookies for over 10 years. The vegetable oil keeps the cookies soft for days.
Ingredients
2 1/3 cups all-purpose flour
¼ teaspoon ground cloves
1 teaspoon ground cinnamon
1 ½ teaspoons baking soda
1/2 teaspoon salt
2 tablespoons fresh grated ginger
1/2 cup vegetable oil (I use rice bran oil, but any mild flavored oil is fine)
1 egg
1/4 cup molasses
1 cup white sugar
Directions
Place a rack in the center of your oven and pre-heat to 175°C/350°F. Grease a cookie sheet and set aside.
Mix the flour, cloves, cinnamon, baking soda and salt in a bowl and set aside.
Peel the skin from the ginger. If you have a food processor, you can combine the peeled fresh ginger with the oil and process until well blended, then strain. Or, use a grater to grate the ginger to a paste and then mix with the oil.
Add the ginger oil to a large bowl, then add the egg, molasses and sugar. Mix well.
Add the flour mixture and mix well.
Take the dough into teaspoon-size lumps and roll into a ball with your hands. Flatten a bit with your fingers. You can either place directly on the sheet, or sprinkle a bit of white sugar on top first to create a crunchy sugar coated cookie.
Bake 8-12 minutes until the tops crack and the cookies flatten out. Cool completely.
Makes 24 cookies. If the dough sticks to your hands while forming the cookies, try refrigerating the dough for 20 minutes first.