Tag Archives:
pancake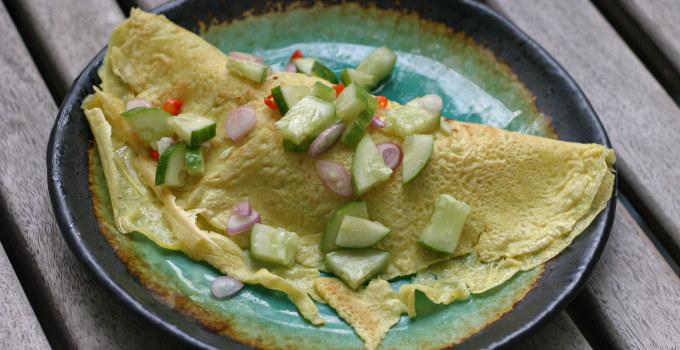 I usually cringe when people talk about fusion food, but recently I had a Thai interpretation of Bánh Xèo (usually called Vietnamese Pancake or Vietnamese Crêpe in English) at a temple fair in Bangkok. It was served by two ladies who simply called it "khanom buang yuan" (Vietnamese pancake). It was very unlike it's Vietnamese cousin, but was really really tasty. I liked it so much I went home and made it the next day.
The only thing I changed from their version was to serve the pancake folded once (like in Vietnam) and I added turmeric powder to the dough (Jett's idea). It's filled with cooked bean sprouts, fried tofu, pickled radish and chopped peanuts. And topped with ajaat — slightly pickled cucumber salad. It's like Southern Thailand meets Southern Vietnam!
Bánh Xèo, Thai style
Makes two crêpes
1/3 cup rice flour
1/4 cup water
1 egg
1/4 teaspoon salt
1/8 teaspoon turmeric powder
1/4 cup tofu, cut into strips and fried
2 cups bean sprouts, boiled until soft(ish – don't kill them)
1 tablespoon diced chinese pickled radish
some vegetable oil
1 tablespoon chopped roasted peanuts
1 cup ajaat

Mix the rice flour, water, egg, salt and turmeric in a bowl until smooth. Be careful with the turmeric, it stains really really well.
Fry the tofu strips until crispy, about 2-3 minutes on high. Set aside.
Boil the bean sprouts until soft, but not dead. About 30 seconds.
Chop the Chinese pickled radish (chai bo) into little pieces. If you don't have chopped peanuts, go ahead and do that too (if you have a mortar and pestle, it's way easier to use that.
Use a large bottomed pan (crepe pan is good) and bring it up to medium high to high heat. Coat the bottom of the pan with a bit of oil. When hot, add 1/2 of the batter and lift the pan — tilt it to coat the bottom. Set it back down and let it cook for about 1 minute, or until the bottom is lightly browned. Flip and add 1/2 of the filling ingredients. Fold in 1/2 and toss on a plate.
Repeat once more with the rest of the ingredients.
Top with the cucumber salad and chopped peanuts.
If you leave out the pickled radish, make sure to add some salt, as the radish is where most of the salt comes from in this dish. I'm not kidding about the turmeric, if you like your counter tops or don't want yellow hands for a week – be careful. You can substitute the fried tofu with whatever you want — don't be afraid to get creative.
Update: I went to another temple fair two nights ago and saw 3(!) vendors with this dish. It's taking over Bangkok by storm! – April 4, 2008