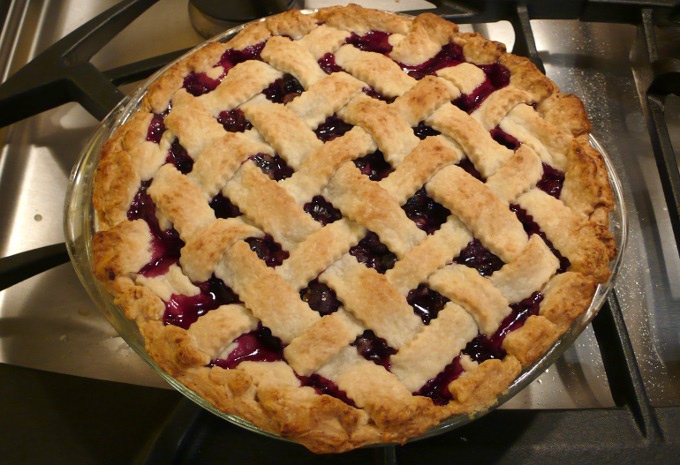 Blueberry Pie
Crust
2 1/2 cups all purpose flour
2 tablespoons sugar
1/2 teaspoon salt
1 cup cold unsalted butter, cut into small pieces
6 tablespoons ice water
Filling
1 qt blueberries (4 cups, 1 1/2 lbs, 680g, or enough for a pie)
1 tablespoon lemon juice
1/3 cup (or less?) brown sugar – depends on how sweet your berries are.
3 tablespoons flour or cornstarch
1/4 teaspoon salt
Cut the cold butter into the sifted flour, sugar and salt until crumbly. You can either use a pastry cutter or a stand mixer on low (with the paddle attachment), or even a fork or two knives. Add the freezing cold water a little at a time until the dough is wet enough. It shouldn't be sticky but should hold together. Kneed just a few seconds to bring it together, then divide into two round flat rounds and place in the freezer for 15 minutes.
While the dough is freezing, wash the blueberries and add to a bowl. Add the lemon juice, brown sugar, flour (or cornstarch), and salt. Mix.
Heat your oven to 375°F (190°C) and take one dough round out of the freezer.
Flour your counter, the dough and the rolling pin and roll until about 11″ across. Place over your 9″ pie pan and pat down well. Trim the edges and place back in the freezer. Take out the remaining dough round.
Roll out this dough into more of a rectangle to about the same thickness as your previous dough. Cut into long strips about 1″ (2cm) wide. I to use a zig-zag pastry cutter for a nice edge, but you can use a butter knife too.
Remove your pie crust from the freezer and fill with the blueberries.
Now we'll make the lattice top. Place strips across the top in one direction only. Fold every other one back at the half way point. Place one strip across and bring all the strips back down. Fold the other half of the strips up and repeat. When you get to the end of the pie, turn it to do the other half. Fold the strips under the first crust and crimp the edges.
Bake for 50-55 minutes or until the filling is thick and bubbling and the crust is browned. I recommend placing a cookie sheet under the pie in case it leaks.