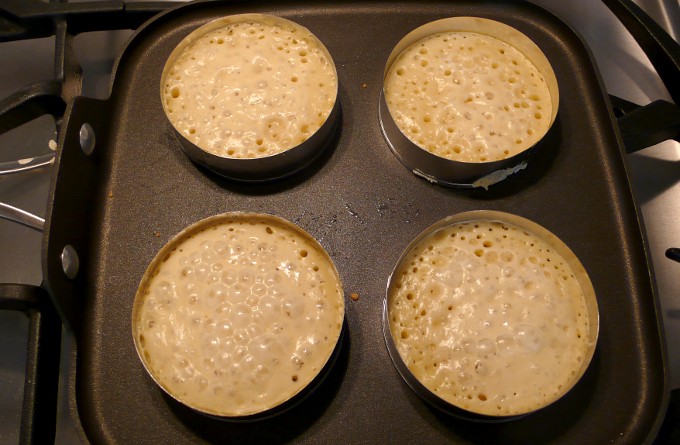 Crumpets
1/4 cup water
1/2 cup milk
1 teaspoon sugar
1 tablespoon butter
2 teaspoons instant yeast
1 egg
1/2 teaspoon salt
1 cup all purpose flour
Add the water, milk, sugar and butter to a saucepan and heat until butter has melted. Do not boil. Allow to cool until warm.
Add the yeast and cover for about 5 minutes, or until bubbly.
Beat the egg and salt together in a large bowl. Add the mixture from the saucepan to the bowl and mix well. Sift the flour in and mix. Cover and leave in a warm place until doubled in size – about 45 minutes to an hour. (If your house is cold, you can heat your oven to about 150 degrees, then turn it off and place the bowl inside with the door open. You don't want to cook the yeast, just keep it warm so it reacts faster.)
When doubled, mix with a spoon to knock it down.
Fill greased biscuit rings about 1/2 way with the batter and cook on a skillet over medium low heat until the tops are not shiny, the bubbles have popped, and the bottoms are browned.
Makes 6. Toast before eating (don't cut in half like an english muffin, just throw the whole thing in the toaster as-is). Serve with butter and jam or Marmite. They freeze well. And don't forget the tea!