Tag Archives:
cupcakes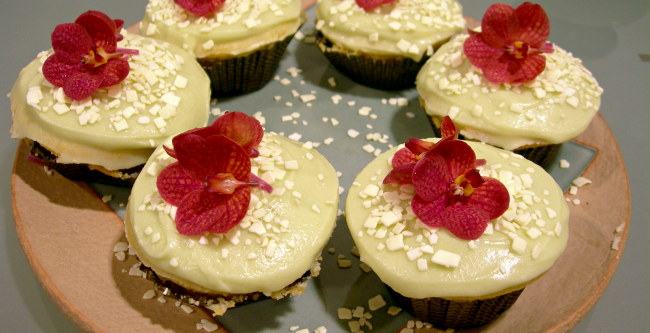 Cake
1 cup (2 sticks) unsalted butter, room temp
2 cups sugar
4 large eggs, room temp
2 3/4 cups all-purpose flour
1 tea baking powder
1 tea baking soda
pinch salt
1 cup milk
2-3 tea fresh lime juice
1 tea lime zest
Cream the butter until smooth, and gradually add the sugar. Beat for 2-3 minutes until it's fluffy. Add eggs one at a time, and beat well between.
Combine the dry ingredients — flour, baking soda, baking powder and salt in a bowl. Add slowly to the creamed butter mixture.
When mixed, add the lime juice and zest.
Fill lined cupcake tins 3/4 way, and bake in a pre-heated oven for 20 minutes at 350°F. Make sure the tops do not get browned.
Frosting
1 cup (2 sticks) unsalted butter, very soft
8 cups confectioners' sugar
1/2 cup milk
2 tea fresh lime juice
1 drop light green food coloring (if desired)
Cream butter until smooth, and then add the milk and lime juice and mix well. Slowly add the sugar until the desired consistancy is reached — you may not need all the sugar. You can add food coloring and/or zest if desired.
Make sure the cupcakes are room temp before icing or you'll make a big mess. Top with sprinkles or whatever you want!
makes 24 cupcakes.