Tag Archives:
sweets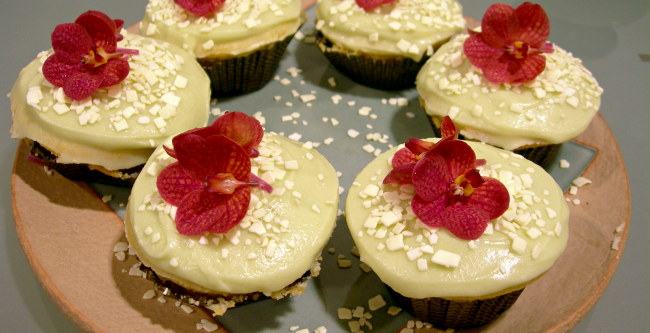 Cake
1 cup (2 sticks) unsalted butter, room temp
2 cups sugar
4 large eggs, room temp
2 3/4 cups all-purpose flour
1 tea baking powder
1 tea baking soda
pinch salt
1 cup milk
2-3 tea fresh lime juice
1 tea lime zest
Cream the butter until smooth, and gradually add the sugar. Beat for 2-3 minutes until it's fluffy. Add eggs one at a time, and beat well between.
Combine the dry ingredients — flour, baking soda, baking powder and salt in a bowl. Add slowly to the creamed butter mixture.
When mixed, add the lime juice and zest.
Fill lined cupcake tins 3/4 way, and bake in a pre-heated oven for 20 minutes at 350°F. Make sure the tops do not get browned.
Frosting
1 cup (2 sticks) unsalted butter, very soft
8 cups confectioners' sugar
1/2 cup milk
2 tea fresh lime juice
1 drop light green food coloring (if desired)
Cream butter until smooth, and then add the milk and lime juice and mix well. Slowly add the sugar until the desired consistancy is reached — you may not need all the sugar. You can add food coloring and/or zest if desired.
Make sure the cupcakes are room temp before icing or you'll make a big mess. Top with sprinkles or whatever you want!
makes 24 cupcakes.
Filling
5 cups sliced green apples (about 5 small Granny Smith apples)
1/2 c white sugar
1 table all-purpose flour
1 tea ground cinnamon
1/4 c water
Topping
1/2 c quick oats
1/2 c all-purpose flour
1/2 c packed brown sugar
1/8 tea baking powder
1/8 tea baking soda
1/4 c melted butter
Slice the apples and put into a 9x4x4 bread pan. You can also use a 9×13″ cake pan, but you need to double the above amounts…
Mix the white sugar, tablespoon of flour and cinnamon together, then sprinkle on the apples. Pour water evenly over the top after.
Mix the oats, flour, brown sugar, baking powder, baking soda, and melted butter together. It should be really thick. Crumble with a spoon over the top of the apples, making sure it's evenly covered.
Bake at 350°F (170°C) for 45 min or until dark brown.
Cake
2 cups boiling water
1 cup (8oz?) unsweetenened chocolate
1 cup water
2 3/4 cups all-purpose flour
2 teaspoons baking soda
1/2 teaspoon baking powder
1/2 teaspoon salt
1 cup butter, softened
2 1/4 cups white sugar
4 eggs
2 teaspoons vanilla extract
preheat your oven to 350°F.
grease 3 9″ round cake pans with butter.
melt your chocolate over a double boiler, be sure it doesn't burn, then let it cool.
mix together flour, baking soda, baking powder and salt.
in another (bigger) bowl, mix butter and sugar together.
beat in eggs one at time, then add vanilla.
add the flour mixture alternately with the chocolate.
spread batter evenly between the 3 prepared pans.
bake in preheated oven for 25 to 30 minutes. Allow to cool.
Frosting
1/2 cup butter
3 (1 ounce) squares unsweetened chocolate
1 pound confectioners' sugar
1/2 teaspoon vanilla extract
1/2 cup coffee/milk (brew 1 tb coffee into the milk)
melt chocolate and butter in the a double boiler.
in a large bowl, combine confectioners sugar, vanilla and milk.
frosting will thicken as it cools.
put the cake together!
makes 1 9″ cake. enough for a large party.