Tag Archives:
vegetarian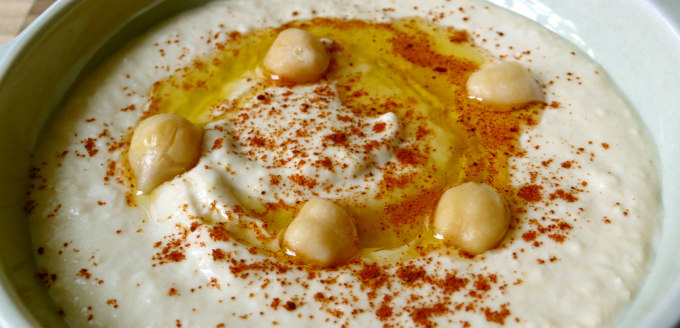 Here's the recipe I use for hummus — I've made it a few times now and it's pretty good. And really easy. I can't find the original site where I got the recipe from, otherwise I'd credit it.
Hummus
Makes 4 cups
1 1/2 cups dried chickpeas, soaked overnight
1 teaspoon sea salt, divided
2 teaspoons garlic cloves, peeled
3/4 cup tahini (roasted sesame seed paste)
1/2 cup fresh lemon juice, and more to taste (I used lime because I'm in the land of lime)
paprika (garnish)
olive oil (garnish)
some leftover boiled chickpeas (garnish – optional)

Soak the chickpeas overnight in water. Make sure you cover them with a lot of water because they'll triple in size.
Rinse the soaked chickpeas well and drain. Put them in a saucepan and cover with plenty of fresh water and 1/2 teaspoon salt. Bring to a boil. Skim off the scum that forms at the beginning, then cover and cook over medium heat for about 1 1/2-2 hours until the chickpeas are very soft. You'll probably need to keep adding water and skimming the scum off the surface. Allow to cool.
When the chickpeas are done, puree the garlic and the rest of the salt in a food processor. Add the tahini and lemon juice and puree until blended. Add 1/2 cup of the chickpea water and process until completely smooth.
Fish out the chickpeas and add them to the food processor, but keep the chickpea water. You may want to keep a few aside as garnish for after. Process until well-blended. Thin to desired consistency with the chickpea water. Adjust the seasoning with salt and lemon juice. The hummus can be kept in an airtight container in the fridge, and it'll last a few days up to a week.
Serve sprinkled with paprika and extra virgin olive oil.
Goes great with homemade pita.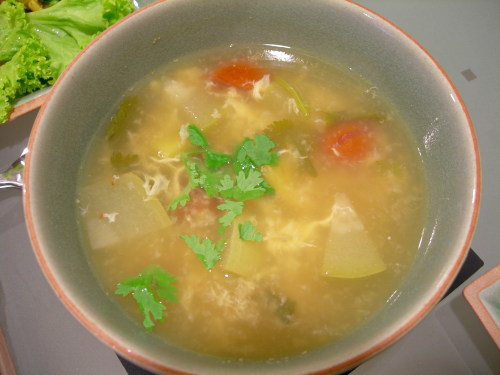 Ingredients
1 table chopped garlic
4 cups water
1/4 cube knorr mushroom soup base
4 lime leaves
2 slices galangal
5 small thai green chilis (prik kee nuu)
1 tea thin tamarind paste
1/3 winter melon, skinned, and cut into bite sized cubes
bite sized pineapple chunks — about 1/2 of the amount of melon used
10 cherry tomatoes
1 tea sugar
1/4 tea salt
1 tea light soy sauce (healthy boy)
dash of white pepper
1 egg (optional)
small handful (10 leaves?) of horapa basil
2 springs of cilantro
Method
pan fry the garlic in a little oil until light brown and fragrant. Add the water directly on top, and bring to a boil. add the knorr soup base, lime leaves, chilis, tamarind paste and galangal. boil for a few minutes for the flavors to come out.
add the winter melon, and boil for a few more minutes. Then add the pineapple, tomatoes, sugar, salt, pepper, soy sauce. Boil until the winter melon is soft.
while stirring, slowly pour 1 beaten egg into the soup.
turn of the heat and add the basil & cilantro. When wilted, serve in a boil, and garnish with cilantro.
makes two large bowls.
Ingredients
1lb spinach leaves (discard the stems)
6 tablespoons white sesame seeds
2 teaspoons sugar
2 teaspoons soy sauce
4 tablespoons water
Method
toast the sesame seeds in a dry wok until they are medium to dark brown.
smash the toasted seeds in a mortar until they are mostly smashed.
Add sugar, soy sauce and water and mix.
peel off the stems of the spinach and cook the leaves quickly in water until soft. take the cooked spinach and smash it in with the sesame paste, you may have to do it in batches. smash the leaves so they absorb the flavour. this dish is best served cold with a sprinkle of fresh sesame seeds on top.
makes enough for about 2 or 3 small dishes.