Category Archives:
Recipes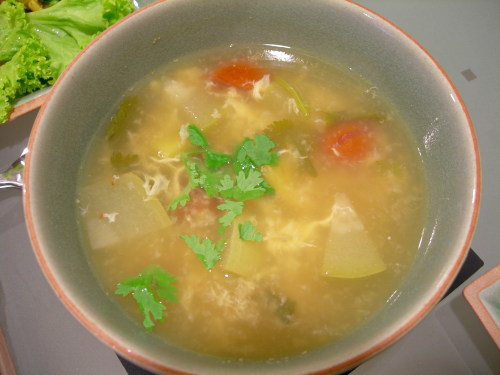 Ingredients
1 table chopped garlic
4 cups water
1/4 cube knorr mushroom soup base
4 lime leaves
2 slices galangal
5 small thai green chilis (prik kee nuu)
1 tea thin tamarind paste
1/3 winter melon, skinned, and cut into bite sized cubes
bite sized pineapple chunks — about 1/2 of the amount of melon used
10 cherry tomatoes
1 tea sugar
1/4 tea salt
1 tea light soy sauce (healthy boy)
dash of white pepper
1 egg (optional)
small handful (10 leaves?) of horapa basil
2 springs of cilantro
Method
pan fry the garlic in a little oil until light brown and fragrant. Add the water directly on top, and bring to a boil. add the knorr soup base, lime leaves, chilis, tamarind paste and galangal. boil for a few minutes for the flavors to come out.
add the winter melon, and boil for a few more minutes. Then add the pineapple, tomatoes, sugar, salt, pepper, soy sauce. Boil until the winter melon is soft.
while stirring, slowly pour 1 beaten egg into the soup.
turn of the heat and add the basil & cilantro. When wilted, serve in a boil, and garnish with cilantro.
makes two large bowls.
Cake
2 cups boiling water
1 cup (8oz?) unsweetenened chocolate
1 cup water
2 3/4 cups all-purpose flour
2 teaspoons baking soda
1/2 teaspoon baking powder
1/2 teaspoon salt
1 cup butter, softened
2 1/4 cups white sugar
4 eggs
2 teaspoons vanilla extract
preheat your oven to 350°F.
grease 3 9″ round cake pans with butter.
melt your chocolate over a double boiler, be sure it doesn't burn, then let it cool.
mix together flour, baking soda, baking powder and salt.
in another (bigger) bowl, mix butter and sugar together.
beat in eggs one at time, then add vanilla.
add the flour mixture alternately with the chocolate.
spread batter evenly between the 3 prepared pans.
bake in preheated oven for 25 to 30 minutes. Allow to cool.
Frosting
1/2 cup butter
3 (1 ounce) squares unsweetened chocolate
1 pound confectioners' sugar
1/2 teaspoon vanilla extract
1/2 cup coffee/milk (brew 1 tb coffee into the milk)
melt chocolate and butter in the a double boiler.
in a large bowl, combine confectioners sugar, vanilla and milk.
frosting will thicken as it cools.
put the cake together!
makes 1 9″ cake. enough for a large party.
Ingredients
1lb spinach leaves (discard the stems)
6 tablespoons white sesame seeds
2 teaspoons sugar
2 teaspoons soy sauce
4 tablespoons water
Method
toast the sesame seeds in a dry wok until they are medium to dark brown.
smash the toasted seeds in a mortar until they are mostly smashed.
Add sugar, soy sauce and water and mix.
peel off the stems of the spinach and cook the leaves quickly in water until soft. take the cooked spinach and smash it in with the sesame paste, you may have to do it in batches. smash the leaves so they absorb the flavour. this dish is best served cold with a sprinkle of fresh sesame seeds on top.
makes enough for about 2 or 3 small dishes.